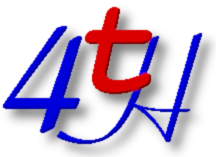 4tH Integrated Developer Environments
1. Introduction
Since the dawn of times, Forth was a special language. For a long time there was no other environment that allowed a developer to write his code, compile it and run it without ever leaving the program. Of course, we had BASIC, but apart from Bill Gates nobody took it serious. They proved to be right, because now we have Java.
A screenshot of 4tH GUI with 'Syntax Coloring' enabled. Who needs ColorForth?
That all changed when Turbo Pascal emerged. It featured a full fledged editor. And with a single keypress the source was compiled. Compilation was even so fast that some users rather compiled the source to position the cursor than to scroll to the offending line . The Forth world just smiled and largely ignored these developments.
Of course, there are Forth systems that use this paradigm. BigForth, Win32Forth for instance. However, this means that the advantage that the classical Forth architecture once offered has virtually disappeared. In our view, there is no big difference between using a 4tH IDE and another Forth IDE like Win32Forth.
In Forthwrite we once expressed the wish that an IDE for 4tH would emerge. Well, that has happened, thanks to some very enthousiastic 4tH users. We only had to write some documentation. These implementations are now available to the general public. Every single archive is a complete 4tH developers system. It includes both the IDE and version 3.3a compilers. In order to reduce download time, we have not included the full 4tH documentation, but you can download the manuals separately if you need to. Have fun!
2. RED
RED is a 32 bit Integrated Developers Environment for Windows computers (Win9x, NT, XP, 2000). It has been developed by Dr. Udo Rabe and you should contact him for support. It supports 4tH versions 3.3c and up. There is also a version which supports Digital-Mars C/C++.
CLICK HERE TO DOWNLOAD
3. 4tH Editor
4tHEd is a 32 bit Integrated Developers Environment for MS-DOS computers. This editor was also developed by Dr. Udo Rabe and you should contact him for support. Minimal configuration requires a 80386 class computer with 4 MB memory and a harddisk. It requires CWSDPMI.EXE and 4TH.EXE somewhere in your path. It supports 4tH versions 3.2e and up.
CLICK HERE TO DOWNLOAD
4. 4tH GUI
4tHGUI is an Integrated Developers Environment for MS-DOS computers. It has been developed by Jesus Consuegra and you should contact him for support. Minimal configuration requires a 80386 class computer with 640 KB memory and at least 720 KB storage capacity. It requires 4THX.COM and 4THC.COM somewhere in your path. It supports 4tH versions 3.1c and up, although syntax coloring is based on version 3.3a.
CLICK HERE TO DOWNLOAD