Wild Child in the City of Light, is the diary of a Rock & Roll junkie, following his idols all over Europe and beyond. Jochen Maaßen will take you across two continents, to Paris, London, New York, Rotterdam, Bremen, Cologne, Liverpool and countless other places, where he meets great musicians like Robby Krieger, John Densmore and Ray Manzarek of the Doors and Eric Burdon. He goes on tour with The Soft Parade, is in Paris during the annual Jim Morrison celebration and tries to buy a beer at a petrol station in Liverpool on Yellow Submarine Day.
Wild Child in the City of Light is packed with rare and unpublished interviews, pictures, paintings, poems and stories by Joe Russo, Michelle Campbell, Andre Mittwollen, Hans Bezemer, the late Darryl Read, Johanna Hébert, Gilles Yéprémain, John Shureman and, of course, Jochen Maaßen himself.
If you are interested in 'classic' rock music (especially in The Doors or Eric Burdon), rock photography, poetry and entertaining stories, you will love this book. It is a strictly limited edition of 500 (numbered and signed by the author) copies worldwide and will certainly become a collector's item very soon. All this for only 29.95 now 19.95 Euro (plus P&P)! Please contact us at .
We accept PayPal only. Or check us out on eBay! If you have any questions, please feel free to contact us at .
The book, 1.2 kilogramme, 245mm x 300mm in size, is printed in English on very high quality, 170 grams paper, FULL colour, print varnished and has 144 pages. The laminated cover has 8 pages and is printed on 300 grams paper. The whole book is lavishly bound (sewed & glued) and comes with a full colour, double sided poster and an exclusive, professionally manufactured interview CD with Eric Burdon.
PRIVATE PRINT - LIMITED NUMBERED EDITION
This first-print run has nearly sold out and there are only a defined number of books still available. Do not miss out, get one before they disappear altogether!
Jochen Maaßen was born in Germany in December 1963 and has lived and worked there all of his adult life. After graduation, he became a lithographer. Three years later, he decided to join the green berets and became a staff sergeant in the Anti Tank Force. He returned to his former profession four years later.
At the age of seven, the music of the Sixties attracted his attention and nothing else has captured his interest and imagination as much since. A huge Doors fan for many years, he is the author of many publications on the Doors and the celebration of this continuing phenomenon..
His most well-known work is "8th December 1993-Impressions of an anniversary". He has also designed countless posters, CDs and book covers and participated in many other projects utilizing his skills and boundless creativity. Jochen is married and father of a son.
"I made it to the first floor, opened a door and there he was: Mr. Eric Burdon himself. He received me with his raw, smokey voice: "What do you want from me?"
I couldn't believe me being there, let alone explain my sudden appearance, so I gave him a copy of my book.
Then he asked me what I thought of the show and why I liked his music. In fact, he was interviewing me - not the other way around.
We talked about the sixties and the scratched single of my childhood. Eric leafed carefully through my book and every time he saw a picture of Robby Krieger, he smiled."
The memoir of a true Doors fan. Very good work, and a very handsome book. Ray Manzarek, USA (The Doors) *** Doch man fange erst einmal zu lesen an... (..) Fast könnte man neidisch werden, dass man nicht selbst dabei gewesen ist. Heinz Gerstenmeyer, Germany *** C'est un très bel exemple de l'influence positive que peut avoir sur ses fans la musique des Doors et la poésie de Jim Morrison. Nicolas Lejeune, France *** A great book. Psychedelic, colorful and exciting. Jim Morrison was once asked what he wants to be remembered for. He said: 'My words man... just my words'. Thanks for your words, Jochen!! Herbert Hauke, Germany *** Last month, Jochen released a very interesting limited edition, color book (..). The book is a beautiful document of the rock parties and rock star encounters from his past. Kerry Humpherys, USA *** This book is definitely worth your money and highly recommended! Uwe Huhn, Germany *** Jochen Maaßen's rock book is a class of its own. A must for Eric Burdon fans. Josef Gödderz, Germany *** I didn't merely read it with enthusiasm, no! I find myself taking it from my bookshelf again and again. It's a great book of rock 'n' roll history and the show-piece of my collection. JLK, Germany *** Every now and then something remarkable comes along in The Doors world (..) This is one of those. Alex Patton, UK *** La prima cosa che ho detto pochi giorni fa quando ho avuto questo libro fra le mie mani e' stata 'Wooow!!!' Finalmente un bellissimo libro sui Doors (e non solo). Simone Giuseppin, Italy *** Once I started, I couldn't put the book down. I went back a second time just to see the pictures. They're all beautiful!! Phil Metzger, USA (The Eric Burdon Newsletter) *** A fantastic job, Jochen, and a piece of work to be very proud of. A true collectors item and a must for music/art/poetry fans. Joe Russo *** READ ALL REVIEWS IN FULL!
Yesterday I received the UK and US hardcover versions of the book (both signed). I prefer the British variant because the cover reminds me a lot of the LA Woman record sleeve, plus I like the red background colour – reminiscent of fire. Also, the photos in the UK version are less dark and more defined than those in the US edition. Generally, I would have preferred if both editions had come out on higher quality paper, but I guess in these times of sustainability and for the sake of the environment, FSC paper is an adequate choice.
I think I can claim that I own and have read almost every English and German language Doors-related book published. Over time, a lot of interesting but also bad stuff was written about the group, sometimes absolute nonsense, totally invented stories, and even downright lies. Fans want to be entertained by finding out new or authentic details about the group, but in the case of Doors literature, very often the same old stories were rehashed, repackaged or repeated in a slightly new style, often with a tabloid-style slant. Sensationalism sells.
What a refreshing difference this book makes! Not only is it a first-hand account of one of the 4 core players in the saga, but it sucks you right into its universe the moment you start reading. It is as though Robby Krieger is sitting opposite you on your living room couch and telling you stories and anecdotes from his life in a quiet and thoughtful manner. He comes across as very informative, sensitive, entertaining and not the least bit arrogant or condescending. Besides a few very serious and sad stories. I often found myself laughing out loud while reading, because the book shows a very peculiar sense of humour that I am quite drawn to. All that made it hard for me to put the book down once I started reading.
All this reaffirmed for me that I hear the real Robby Krieger talking, the Robby Krieger I remember from our meetings in Paris/France and Fulda/Germany all those years ago. And what proved to be a blessing for the book was the choice of Jeff Alulis as co-author - a perfect collaborator. Since it has become a little quieter in the Doors world recently, Robby Krieger has chosen the right time to publish his wonderful biography at this time. I don't want to give away any details.. Buy the book and decide for yourselves. I guarantee you will love it!
Thank you Robby Krieger and thank you Jeff Alulis. Rock on & keep the good work coming. I am always ready for The Soft Parade...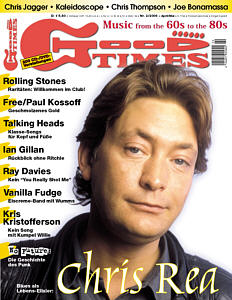 "'Die Memorien eines wahren Doors-Fans', schrieb Doors-Keyborder Ray Manzarek dem Autor. 'Eine gute Arbeit und ein sehr schönes Buch.' Dem wollen wir uns anschließen, besonders dem letzten Punkt.
Denn Jochen Maaßens katalogdickes Fanbuch in Din-A4-Format besticht insbesondere optisch: ob die Zeichnungen zu Gedichten des Jim-Morrison-Vorbildes Charles Baudelaire oder Collagen aus Eintrittskarten und Autogrammen, ob mit Fotos von Fantreffen am Morrison-Grab in Paris oder Aufnahmen von Konzerten der Doors-Cover-Band The Soft Parade, ob mit Bildern von Reisen, bei denen Maaßen auf den Spuren seinen Idole durch die USA und England wandelte. Darin eingebettet sind Texte über oder von Zeitzeugen, etwa ein Interview mit Eric Burdon, das dem Buch auch als CD beiliegt.
Maaßens Fotos haben einen intimen, persönlichen Charakter, das Blättern im Buch gleicht dem in einem Familienalbum. Nicht jedes Bild hätte unbedingt hinein gemusst; die Aufnahmen von Maaßens neugeborenen Sohn etwa oder die (sehr gestellten) Fotos Arm in Arm mit so manchem Star wären besser im privaten Fotoalbum aufgehoben. Aber insgesamt eine Augenweide." frs
"'The memoir of a real true Doors fan', wrote Ray Manzarek, keyboarder of the Doors, to the author. 'Very good work and a very handsome book'. We agree with that, especially where the handsome book is concerned.
The book, catalog sized, A4 format, is a visual treat. Whether with drawings, poems of Morrison-example Charles Baudelaire, collages of concert-tickets and autographs, pictures of the festivities at Morrison's grave, concerts of the Doors coverband 'The Soft Parade', or travels while persuing his idols across the USA and the UK. The interview with Eric Burdon, which is also included on the CD, is just one of the testimonies that is embedded into the book.
Jochen Maaßen's pictures have an intimate, personal character. Browsing the book is like browsing a family album. Not every single picture should have been included. Some of the pictures, like the ones with his newborn son or with some stars should not have left the family album. But all in all it is a feast to the eye." frs
Good Times Magazine - Music from the 60s to the 80s; 2/2006 - April/Mai